Our History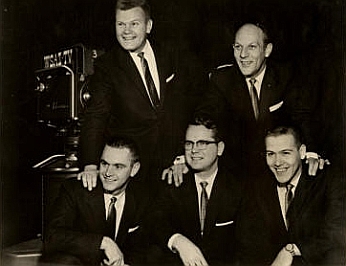 How can we begin to recount all the many experiences, the people, the successes and setbacks since our founding so many years ago in 1952 that have brought us to where we are today? The following history is our attempt to convey to you our heritage, taking you back to the beginning, and tracing the highlights of our long journey to this present day. The Gospel Harmony Boys ever cherish our roots, and are grateful for the labors of those who have made our current labor possible.
(The following is excerpted from the Gospel Harmony Boy's 25th anniversary album insert, written by Homer Fry.)
1952 - 1961
In 1952, a young man named Harold Lane was discharged from service and returned to his home town of Huntington, West Virginia. It was his dream to start an outstanding gospel music group that would be different from other area groups, not only in sound, but in presentation. Till this time, quartets traveled with armfuls of song books and sheet music, performing it exactly as written. Harold, with his excellent music background, wanted to do some special arranging of the material and commit it to memory for performance.
With this objective in mind, he and a close friend, Leonard Adams, began searching for other personnel for the group that became The Gospel Harmony Boys. This group consisted of Harold Lane, who sang lead and contributed musical leadership; Leonard Adams, who sang tenor and managed the group; J. B. Short, who sang the bass; and John Embry, who sang baritone. Carlos Day soon became the first regular pianist after Don Owens and Martha Ramsey helped get the group started. In early 1953, they presented their first programs and were welcomed with open arms by area gospel music enthusiasts.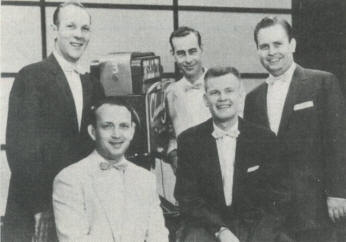 In 1954, Gray Johnson, who became so well known to millions of TV viewers as "Pappy", joined the Harmony Boys to sing the bass. Then, in early 1955, Harold received a job offer from the Homeland Harmony Quartet, so he packed up and moved to Nashville for a year. During his absence Dale Musgrave filled the lead spot. Also about this time, an employment transfer sent John Embry and Leonard Adams out of state to work. and Carlos Day accepted the Lord's call into full-time ministry as a pastor. Asbury Adkins came to sing tenor, and two other young men became members of the Harmony Boys family: Harold Patrick came to play piano, and Homer Fry became the new baritone singer. I sure wish we could have let you hear this combination of members, but, unfortunately, no tape was available.
The next personnel changes occurred when Asbury left to join his family group, and Harold Patrick ran off to play for a little known family group called The Goodmans. He later joined Jim Hill to form The Golden Keys Quartet. Johnny Bruce became the Harmony Boys' keyboard man and little Asa LeGrand came on board to sing tenor. "How Far Am I From Canaan" was recorded in 1957 by the group consisting of Asa, Harold, Homer, Gray, and Johnny. We also recorded "Look Up" in 1958.
In May, 1958, the Harmony Boys were scheduled to sing at the McConnell Tabernacle near Logan, West Virginia. On our return trip, we were involved in a head-on collision which injured several of the guys, but Johnny Bruce the most critically. He was unable to return to his position with us, and Carlos Day came back during his absence. It was this group that released the quartet's first long play album, "I'm Redeemed", in 1961, leaving behind the days of the 78 rpm recording."
1962 - 1970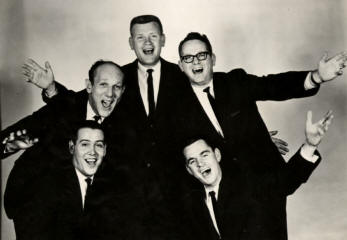 Richard "Dick" Lucas joined us in 1962 when Carlos left to devote more time to his ministry. That was the group that recorded one of our most popular albums. Its title song, "Little Biddy Chapel", quickly became an area favorite. As guests of one of the first local TV shows in Huntington, West Virginia, the Harmony Boys' TV work began in 1953 on WSAZ-TV and later moved to WHTN-TV. This program became an important part of Sunday viewing for thousands of West Virginia, Kentucky, and Ohio families for the next 17 years. The theme song from that television show, "Someone to Care", became a Gospel Harmony Boys trademark.
In 1964, the Harmony Boys signed with Skylight Records in Nashville, Tennessee. A special Harold Lane arrangement of "Jesus Loves Me" became the most popular song from that album, and was most recently rerecorded in 2004 on "Our Heritage".
In 1965, Carlos returned to the group again, but only for two years. In 1967, he became seriously ill and was forced to give up the rigorous road life. Harold Lane also left the group during that time to join Nashville's Famous Speer Family where he spent the next twenty years before retiring in 1987. These departures opened the door for the return of Harold Patrick to the keyboard; and the arrival of a new man, Sonny Sites, as the Harmony Boys' lead singer. "I found A Savior" (1967) and "Jesus Can Save" (1968) were two of our most requested songs during those years.
In 1969, Asa left us and Roger Horne came to sing tenor. Gayle Tackett also joined the group in '69 playing bass guitar. Both Roger and Gayle's stay was short. They soon joined other groups: Roger, The Cathedrals, and Gayle, The Singing Goffs. "Crying in the Chapel" was a great GHB hit during those years."
1971 - 1980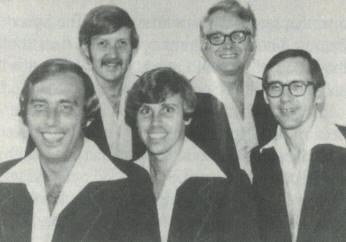 In 1971, the Lord led Clacy Williams our way to sing tenor, and Greg Tingler came in '72, to play bass guitar. "After 20 years of entertaining and blessing audiences, Pappy decided to retire in 1974. During those twenty years, not all was a bed of roses for Gray. He suffered three major heart attacks, but with the Great Physician's help, he always bounced back to do a fantastic job singing bass. During the time of Gray's recuperation, a young man named Ransom Fry made himself available to sing Pappy's lines, and we lovingly considered him a member of our organization. "When Gray retired, The Harmony Boys auditioned many bass singers and selected a young man from Allen Junction, West Virginia named Calvin Thompson, who has in his own right become one of the finest in gospel music today.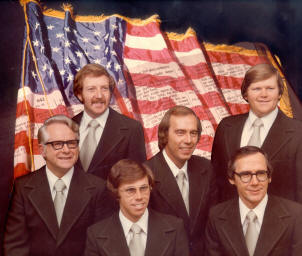 That pretty well tells the story of the first twenty five years of The Gospel Harmony Boys. Many songs have been sung, many miles traveled, and, praise God, many souls won. "As you've probably already noticed, we consider The Harmony Boys organization a family. There's a mutual feeling of love and respect among our membership. There are no ex-members, only inactive ones."
(The remaining history from this point until 1999 will soon be completed.)
1999 - Present
The GHBs had operated continuously since 1952, when Harold Lane (who left the group in 1968 to spend the next 25 years as the arranger and lead singer of the famous Speer Family Quartet) organized them, until 2002, when financial difficulties made it advantageous for them to discontinue their ministry. In so doing, the group celebrated their 50th anniversary with a huge reunion concert to bid farewell to well over a thousand supporters who turned out for the event at the Stoutsville, Ohio Campground on that beautiful Labor Day Weekend in 2002. It appeared at the time that the remarkable history of the Harmony Boys had drawn to an end. Or so it seemed...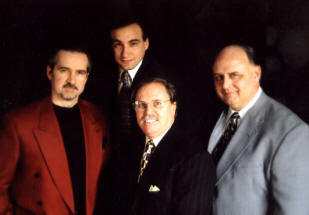 In the fall of 1999, soon before The Harmony Boys began winding down, lead singer Steve Black, baritone Jack Hanks, and tenor Clacy Williams (all former GHB members) recruited Vince Owens to play piano, and the group began singing, using the name The River City Boys. At the time, veteran Calvin Thompson travelled with them as often as he could to sing bass, helping delight audiences throughout the "river cities" of West Virginia and Ohio where the group was based, and beyond. While the name was new, the traditional harmony and arrangements were unmistakably familiar to Harmony Boys fans. Even during this time, the group began taking on the shape of things to come when Greg Tingler, a long time GHB member, temporarily filled the lead spot in 2002.
Eventually, after the official retirement of the Harmony Boys in 2002, mounting pressure from other former GHB members convinced them to reinstate the Harmony Boys name. So, in December 2004, continuing the legacy of service and praise that so many wonderfully talented friends and brothers in Christ had dedicated their lives to creating, The Gospel Harmony Boys were alive and well!
Rusty Ballinger signed on to sing baritone when Jack had to leave the group, and was present during the reformation period. The lead position was difficult for the group to maintain at first; Dale Chambers filled the lead spot vacated by Steve Black, followed for a brief time by Scott Mullins. Then, in early 2006, veteran GHB lead Greg Tingler stepped back to the platform. Calvin, of course, was still holding down the low end, by now full-time; Vince reluctantly left the piano spot vacant when he moved from the area where the group was based, but remains active in other areas for GHB.
So, you can see the group membership has changed a bit since the River City days of 1999 through 2003, but The Gospel Harmony Boys are going stronger than ever today.
To God be the glory.
---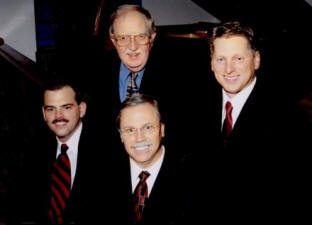 Clacy has said, "We are pleased that God has opened the door for us to once again represent Him, and also thankful for the wonderful group of men who have ably served Him through the name Gospel Harmony Boys for so many years. We are grateful for the continued friendship of the legendary members of the group like Homer Fry, Harold Lane, Asbury Adkins and Dale Musgrave, whom God has given us the privilege to know, admire, and respect. Though many of the older members have reunited in Heaven, it is truly a pleasure for us to continue their legacy. It is a heritage of praise, service, and brotherhood that they worked diligently to create over the 54 years since the group's inception. It is a humbling experience to continue the ministry they so boldly engaged."
---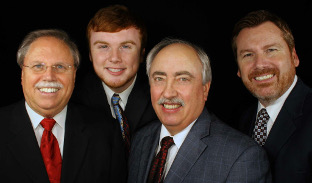 Thank you for your interest in the Gospel Harmony Boys, and for taking the time to read the history, with all its turns and surprises, of one of America's longest serving and most respected Gospel Quartets. We sincerely hope you enjoyed your odyssey through our past. Please feel free to send us your comments and suggestions. We'd love to hear your reaction to the GHB story. Maybe you have an inspiring or funny Gospel Harmony Boys story of your own that we can add to the web site for others to enjoy. Additionally, we solicit your prayers as we continue our efforts to serve Him with just the Gospel, done in Harmony, by some of His Good ol' Boys. We look forward to seeing you at one of our concerts, and we would love to hear from you via email.