GHB Shop
You can purchase products directly from the Gospel Harmony Boys Shop using your credit card through PayPal, a secure, online ordering system
---
Gospel Harmony Boys CD's
God So Loved The Gospel Harmony Boys continue to deliver their classic sound in these 13 inspiring songs, arranged and orchestrated in their unique style. After nearly 70 years of music ministry, they are still going strong!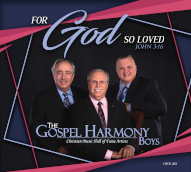 Fairest Lord Jesus

(Standard)

What a Wonderful Lord

(Kohout)

If Love's What You're Looking For

(Fitzwater)

Just a Tool in the Master's Hand

(Owens)

I Talked to Someone About You

(Mencer)

The Sun Will Shine Again

(Kendall)

Going Home Day

(Wilkinson)

Words I Can Live By

(Fitzwater)

You Ain't That Good a Sinner

(Snodgrass)

I Love the Way You Love

(Lutz)

This Piece of Cloth

(Caldwell)

Good Ole Way

(Deveraux)

Power in the Name of Jesus

(Stone)
God So Loved CD $20

Decades, Volume 2 is our second digital package featuring FOUR original classic GHB albums on two CDs. Volume 2 includes the remastered albums: Portraits in Song (1964), Our Tribute to God and Country (1976), Harmony... Our Middle Name (1989) and Daydreaming (1993), plus another bonus single from a 1958 45rpm recording. You don't want to miss this extraordinary piece of Gospel Harmony Boys history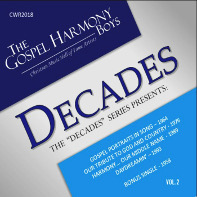 Decades Vol 2 CD $20

Joy Awaits A collection of inspiring songs done in the style that has made the Gospel Harmony Boys a favourite across the country. This collection features much new material, all selected for their uplifting message.
Joy Awaits

(Owens)

Heaven Is The Place Where Dreams Come True

(Wilkinson)

Yes He Can

(Proctor)

Grace Has A Face

(Cross)

Walking In the Light Of His Love

(Adkins)

In The Arms Of Jesus

(Furr)

Good News Is

(Wilkinson)

Thank You For The Sunshine

(Snodgrass)

Just Think Heaven

(Wycuff)

He Touched Me/How Great Tho Art

(Gaither/Hine)
Joy Awaits CD $20

---
Decades, Volume 1 This collection includes FOUR original classic albums, featuring some of the greatest and most popular recordings the Gospel Harmony Boys have made over their many decades of singing the gospel. Volume 1 contains the remastered albums: Sing Praises (1964), Grow Closer (1977), Southern Singing III (1984, previously available only on cassette), Message of Love (1991), plus a bonus single from 1958.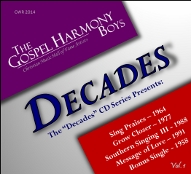 Decades Vol 1 CD $20

---
The Gospel Harmony Boys LIVE From our 62nd reunion concert in Huntington, WV comes this outstanding collection of favorites old and new. If anything is better than a GHB recording, it has to be a GHB LIVE recording.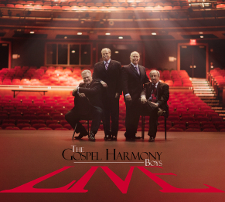 Jesus Saves

(Owens/Kirkpatrick)

A Certain Kind of Certainty

(Moschero)

He's My Dearest Friend

(Gleason)

Grandma's Graduation Day

(Williams)

Heartbeat

(Lawerence)

More Than You'll Ever Know

(Johnson)

Movin' Up

(Tingler)

Redemption Draweth Nigh

(Jensen)

There's a Payday for the Saints of God
LIVE CD $16

---
The Gospel Harmony Boys Greater Things The title says it all. Here are some new and old favorites, done as only the Boys can do them.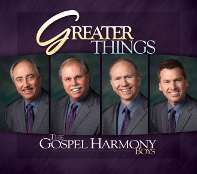 What the Church is Doing Right

(Rousey/Banfield)

Because Jesus Said It

(Smith)

That's What Grace Is For

(Clay/Clay/Davis)

When He Calls I'll Fly Away

(Ellis)

Greater Things

(Snodgrass)

More Than You'll Ever Know

(Johnson)

I'm Glad I Know

(Lacey)

Jesus Saves

(Owens/Kirkpatrick)

I Know of a Country

(Rosesink)

Take Time to Pray

(Mullins)

He Just Keeps on Giving

(Rousey/Borop/Willliams)

Morning Glory

(Rousey)
Greater Things CD $16

---
I BelieveThis is the one you've been waiting for! From old fashioned harmonies on classic quartet tunes like LeRoy Abernathy's "All My Labors Will Be O're" and "There's A Certain Kind of Certainty", to the heartfelt, prayerful title cut, new for this release, the Harmony Boys deliver on all counts. They've included moving renditions of classics such as "Battle Hymn of the Republic" and "He Hideth My Soul", plus the GHB favorite "Grandma's Graduation Day". They've provided a generous collection of fourteen great songs for this effort! We think you'll agree after hearing this Mike Bloomfield production, with its lush orchestral arrangements by Milton Smith, that "The Best Is Yet To Come", and has already started arriving. 2006 Clearwater Read product review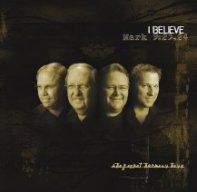 I Believe CD $16

Glad Glad Morning

(Cox)

Heaven's Streets

(Tingler)

Grandma's Graduation Day

(Williams)

There's a Certain Kind of Certainty

(Moscheo)

Glory and Praise

(Attaway)

He's My Dearest Friend

(Gleason)

The Best is Yet to Come

(Rutland)

Still Be Believing

(Smith)

Leading to Calvary

(Goss)

All My Labors Will be O're

(Abernathy)

I Believe

(Owens)

So I Gave My Heart to Him

(Goss)

He Hideth My Soul

(Crosby)

Battle Hymn of the Republic

(Howe)
---