Southern Gospel Music Project Reviews
Reproduced with kind permission from Southern Gospel Music Forum
RIVER CITY BOYS (NOW GOSPEL HARMONY BOYS) ~ ARISE ARISE!
PRODUCED BY: MARK HALE, DALE SCRAGGS, DALE CHAMBERS, MICHAEL BLOOMFIELD (INDEPENDENT LABEL)
---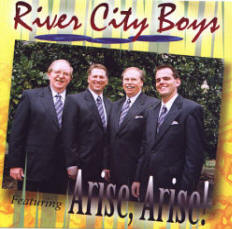 by Sandi Duncan
When it comes to excellent four-part, quartet harmony, you won't find any better than this quartet. The insert on the CD says the artist is River City Boys, which was true when it was recorded. However, New Year's Eve, 2004, the River City Boys officially brought back the name of one of West Virginia's national treasures, the Gospel Harmony Boys. I was gifted with this CD at the National Quartet Convention last fall by my friend, Clacy Williams and want to share some of the grand music with you.
Clacy sings tenor for the quartet and writes some of their material. He, along with Calvin Thompson, are members of the Gospel Harmony Boys from several years back. They are joined by Dale Chambers singing lead and Rusty Ballinger singing baritone. You'll hear each gentleman featured on the project. Combined, they will accept nothing less than perfection in their music, and you'll hear that on this recording.
The project kicks off with an old convention style song written by Greg Tingler, titled "Great Day In The Morning." This is only a sample of the great music to come! The title song, Arise, Arise" is a grand anthem with huge orchestration, (directed by Milton Smith,) and a wonderful message. It reminds me of the wonderful anthems the Cathedral Quartet use to sing, and this quartet does the song in excellent fashion. (I don't think the Cathedrals could have done it better!)
"Simple Is This Cross Of Mine" will remind you of the Statesmen/Blackwood Quartet era. Clacy does an awesome job on this song, and I've never heard Calvin Thompson sing any better as he is also featured on this song. The quartet does some wonderful modern harmony and Mike Bloomfield provided inspiring music tracks.
"Heaven Is Mine," written by Ronnie Hinson, is one of my favorites on the recording. The quartet moves from this country flavored, up-tempo song to the title cut and then on to the slower, more traditional sound of "City Where Nobody Cries." Another of my favorites is "Masterpiece," written by Clacy Williams. This song is a prayer; a personal talk with the Savior, and you'll enjoy it.
The arrangements on the ten songs are all varied, allowing one to experience all facets of the quartet's talent. Actually, there is not a bad song on the project. I highly recommend that you have your own copy to hear and enjoy The Gospel Harmony Boy, formerly known as the River City Boys.
Thank you, Clacy!